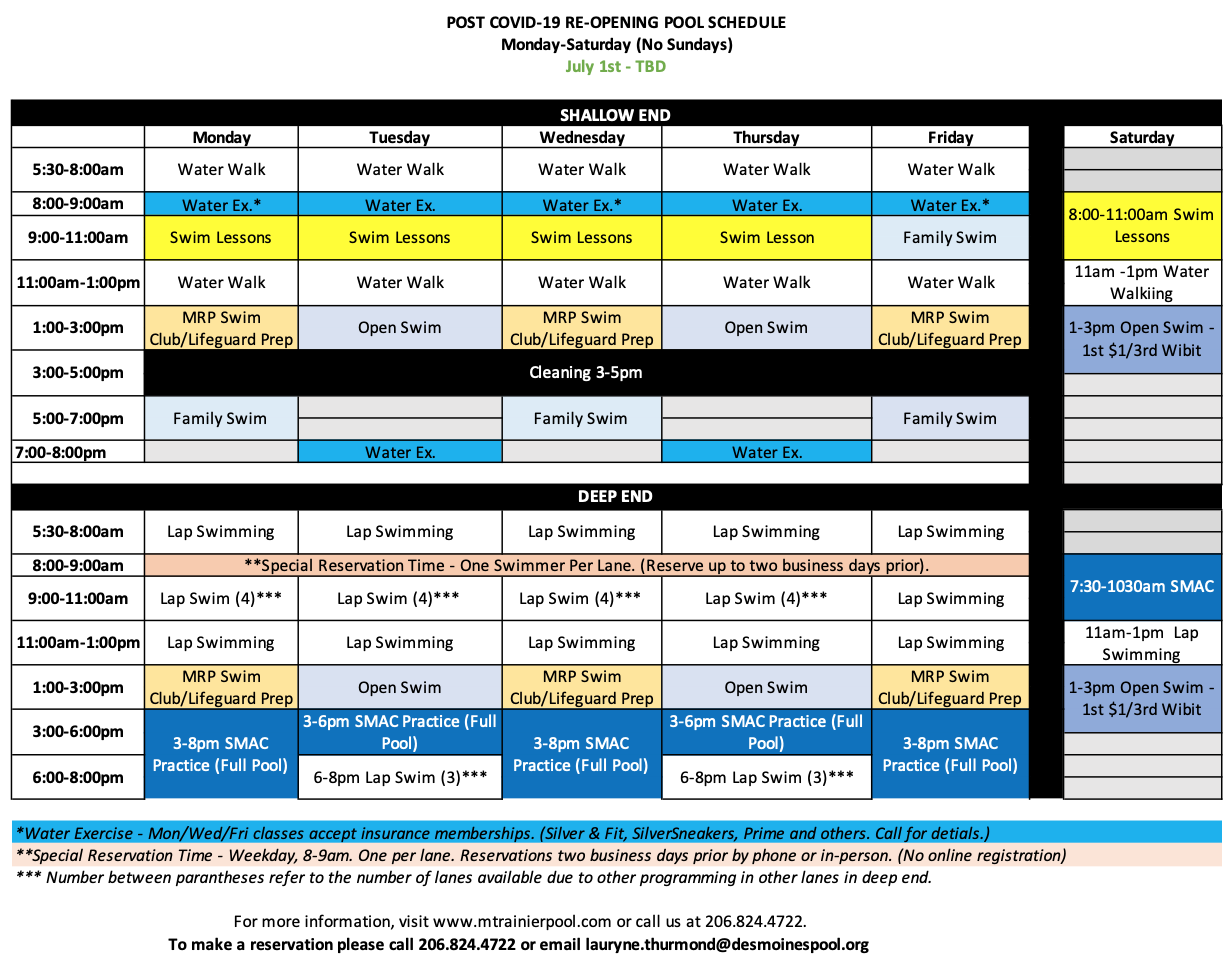 Effective July 1st, you can now attend with your children and family for Family and Open Swims! (Note- Tuesday and Thursday, 1-3pm, Open Swims start on June 22nd!)
UPDATED SCHEDULE: See schedule (effective July 1st) at bottom of email. For daily interactive schedule, click here.
SHOWERING & LOCKERS: Effective July 1st, the locker rooms will be open to store your items, and the showers will be open for your required shower before you swim (and afterwards too!)
APPOINTED LAP & WATER WALKING TIMES: There no longer will be appointed times, 5:30-6:30am, 6:45-7:45am, etc. Patrons can come in and swim during the open times with no restrictions. See schedule below. 
*Note-the only time appointments can be made is from 8-9am, Monday-Friday where patrons can reserve their own lane.
UNVACCINATED PATRONS: If you are unvaccinated, please wear a mask outside the water, and continue to socially distance. Also avoid unmasked interactions with other households while you are in the water. If you need help finding times to use the pool while unvaccinated, please contact us.
(From the CDC) Gatherings between fully vaccinated people are likely safe. Fully vaccinated people can also attend crowded outdoor events, like a live performance or sporting event, without wearing masks. Unvaccinated or partially vaccinated people should continue to avoid medium or large in-person gatherings.
OPEN & FAMILY SWIMS
Bring the family in for one of our family and open swims! This summer we have added family and open swims to give families the options to use the pool six days a week.
Family Swims: Utilize the shallow end of the pool and include toys and water basketball.
Monday, Wednesday & Friday, 5:00-7:00pm

Friday, 9:00-11:00am
Open Swims: Open swims include use of the entire pool including deep and shallow ends
Tuesday & Thursday, 1-3pm**

Saturdays, 1-3pm – See programming & rates below. 

1st – $1/swimmer

2nd & 4th – Regular rates

3rd – Wibit Saturday*
Besides $1 First Saturday Open Swims, all other swims will be regular rates, click here for more information.
WATER EXERCISE
Due to adding morning swim lessons and the ability to have larger class capacities, we will be putting the Monday, Wednesday and Friday, 9:15-10:15am classes on hold until Fall :
Mon-Fri: 8:00-9:00am*

Tue/Thu: 7:00-8:00pm
*Insurance memberships will be accepted for the Monday, Wednesday and Friday 8:00-9:00am classes.
8-9AM LAP SWIMMING LANE RESERVATION TIME
Do you feel more comfortable swimming in your own lane! MRP will still accept reservations for the 8:00-9:00am hour for lap swimming. One lane per household can be reserved! (This is the only time reservations will be accepted!)
To make a reservation, please call us at (206) 824-4722 between the hours of 5:30am-1:00pm, Monday through Friday, Saturday 11:00am-1:00pm and Tuesday and Thursday between the hours of 4:00pm and 7:30pm to make a reservation.
SAVE THE DATE
Below is a list of upcoming event dates. Dates are subject to change due to Covid-19 protocols.
July 1 – Free Senior Thursday

July 3 – Closed for Independence Day

July 10 – $1 First Saturday Swim

July 17 – Wibit Third Saturday Swim

August 5 – Free Senior Thursday

August 7

– 

$1 First Saturday Swim

August 15-21 – August Closure

August 28 – Wibit Saturday Swim
AUGUST 15-21 CLOSURE
The Mount Rainier Pool will be closed the week of August 15-21 to perform some deep cleaning of the facility and perform some preventative maintenance.
There are no major projects scheduled and we plan to re-open the week of August 22.
This is a regular process for many public facilities to ensure quality programming and safety to their communities.
OTHER PAST EMAILS & FLYERS
Past Emails: If you missed it, here are some previous emails with updates that were sent out on summer programming.
CONTACT
Do you have more questions or would like to speak to someone in person? Our Aquatics Manager, Lauryne Thurmond, is here to help. You can call her directly at (206) 824-4722 or email her at lauryne.thurmond@desmoinespool.org. 
We hope to have more information on other programming coming in the future as conditions change! Thank you for following these communications.