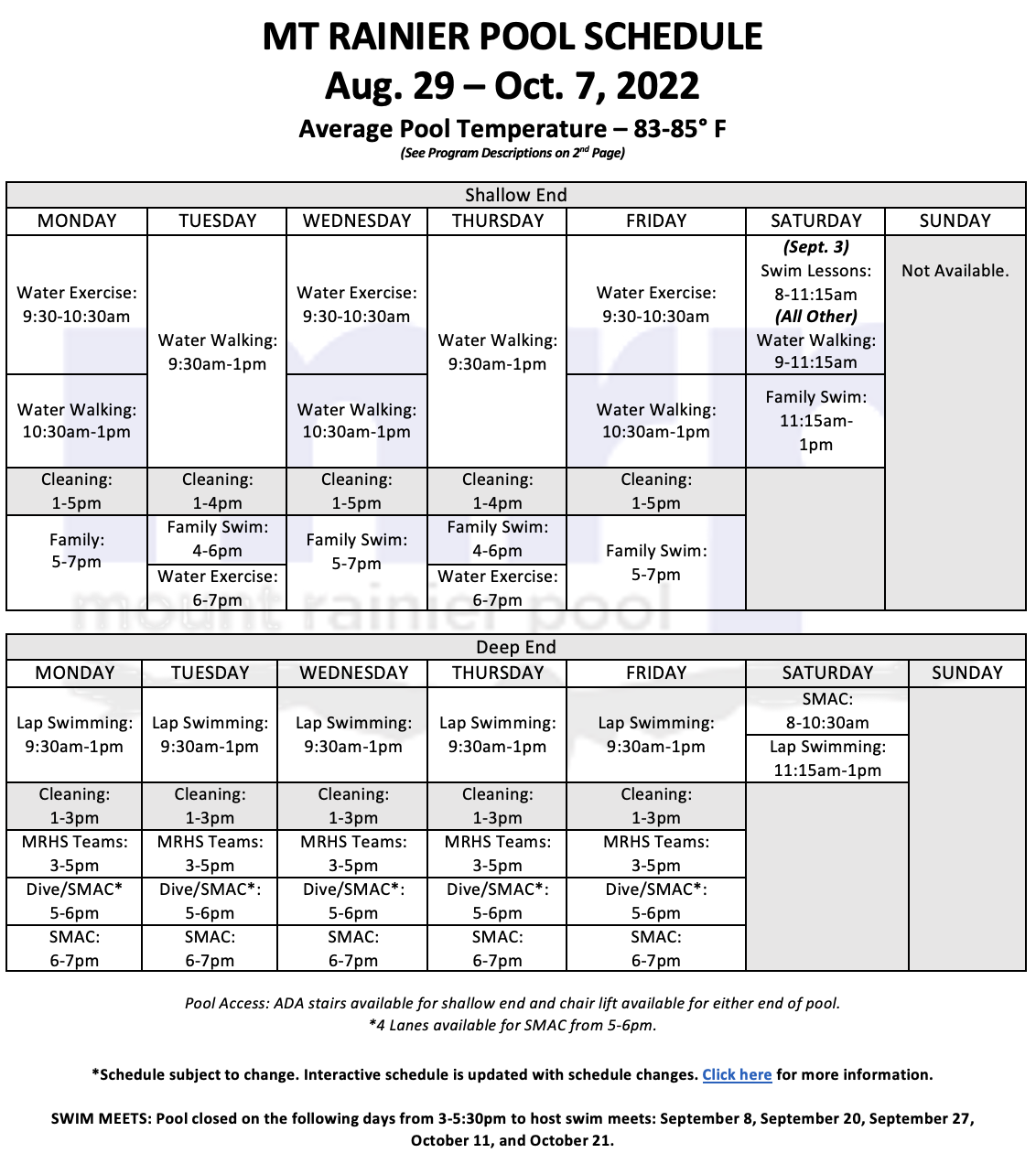 Dear Valued Customer,
Effective August 29th, we will be updating the pool to our Fall Schedule to accommodate the Mount Rainier High School Girls and Boys Seasons. This schedule will last until swim lessons start in October. Below is a summary of the largest changes. For more detailed information visit our website.
UPDATED SCHEDULE: See schedule (effective August 29th) below.
Note-Swim Lessons will be ending Saturday, September 3, and Water Walking (9-11:15am) will start on September 10.
MRHS SWIM TEAMS
Just a reminder that the Mount Rainier High School Girls and Boys teams will be utilizing the pool Monday through Friday from 3-6pm.nnnn
They will also have swim meets on Tuesdays and Thursdays which will require us to shutdown the entire pool for those dates listed below between 3:00pm and 5:30pm.
SWIM MEETS SCHEDULE: Dates for swim meets are Thursday, September 8, Tuesday, September 20, Tuesday, September 27, Tuesday, October 11 and Friday, October 21.
A special public schedule will be from 5:30-7pm on swim meet days.
DEEP END: SMAC Swim Team 5:30-7pm

SHALLOW END: Water Exercise, 6-7pm
We are happy to host both teams!
FALL SWIM LESSONS
We are reintroducing swim lessons starting in October! We are re-evaluating processes including residency, teaching processes and registration. Our goal is to improve the quality of the program and best use our resources. This last summer, we realized there is more demand than we have pool space. We should have updates out no later than the third week of September.
Click here to view our swim lesson page.
MORE INFORMATION
Click here (ADD 8/24/22) for more information.