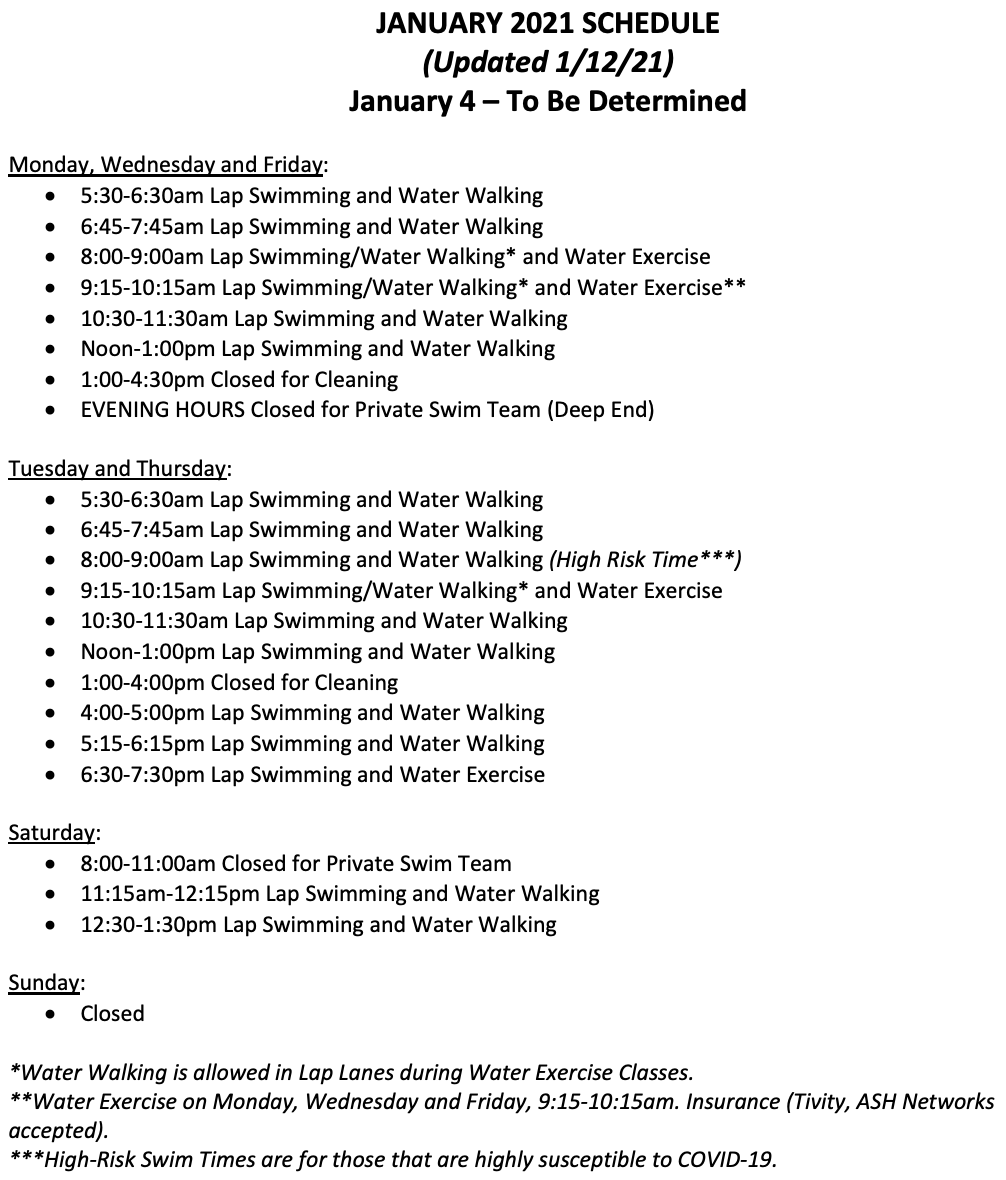 Effective Monday, January 4th, we will not be having lap swim on Monday, Wednesday and Friday Evenings, but still have options for people working on Tuesday and Thursday afternoons/evenings and Saturdays. 
SWIM TEAMS! Swim teams are allowed to have more swimmers per lane than public lap swimming. This requires the pool to allocate most of its capacity accommodate towards swim team practices. We have elected to have private swim teams on Monday, Wednesday and Friday evenings, and lap swimming on Tuesday and Thursday evenings. We are able to accommodate both public lap swimming/ water walking after swim team practices on Saturday mornings. 
NEW! NO SHOW POLICY: Effective January 4th, we will start enforcing our new "No Show" process. 
First "no show", we will attempt to call and remind you of process.
Second "no show", you will be charged a pool visit to your account. If do not have pass or punch card, any future usage will also need to be pre-paid.
We are making this change to ensure more people have access to the pool. 
IMPORTANT! Please read the following guidelines and be aware of them before visiting the pool for your chosen activity. 
SHOWERING: Come ready to swim with your swimsuit on under your clothes. With showers closed, it is critical that everyone takes a cleansing shower before arriving at the pool.  Showering before entering the pools helps ensure clean, clear and safe water conditions. 
LATEST SCHEDULE: Click here to view PDF of latest schedule. 
FUTURE UPDATES: The next update will be in February or as conditions change. If you would like to be emailed updates, please signup for email updates at www.mtrainierpool.com.