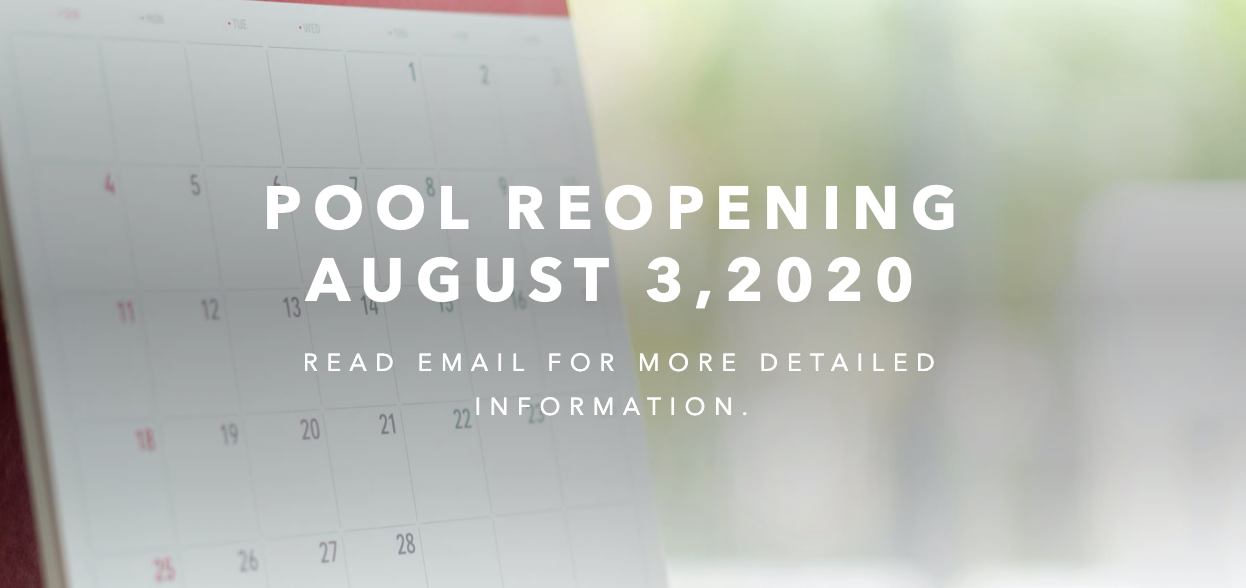 The Mount Rainier Pool will be re-opening with limited (APPOINTMENT ONLY) services on Monday, August 3, 2020. Our hours when we re-open will be:
Monday- Friday, 5:30am to 2:00pm (Not Available Saturday or Sunday).
At re-opening, the pool will only be accepting:
Lap Swimming
Water Walking
Water Exercise (Limit 5 Participants/Class)
All users are required to:
Have a Reservation Before Using the Pool

Wear a Mask At All Times Outside of Water

Arrive Ready to Swim (changed into your swim suit)

Bring a Pre-Filled Water Bottle (water fountains will not be accessible)

Sign a COVID-19 Waiver

Keep at least six (6) feet of distance from anyone outside of your household at all times

Follow All Directional Signs Throughout the Facility
*Pool space broken into time blocks. See schedule at bottom of email for more information.
For your safety, the following will not be allowed.
No Showers (Show Up Ready to Swim)

No Lockers (Each lane will have Personal Space Available to Store belongings)

No Drinking Fountains (Bring Own Water Bottle)

*

No Spectators (Only Swimmers will be allowed)

No One 12 and Under Allowed (Age restrictions will be modified as directives change)
The following space restrictions have been set by the State's Department of Health.
Lap Swimming: Limit one swimmer per lane.

Water Walking: Limit five water walkers at a time.

Water Exercise participants must have a reservation for each day. (Limit 5/Class)
The only exceptions that are allowed are:
No face mask for those with respiratory Issues with medical documentation.

Caregivers are allowed to swim with participants.

**
All of these changes are done in accordance with Department of Health directives in following Washington State/King County's Safe Start Plan. Other programs will be reintroduced as restrictions lessen. Email notifications will be sent out before programs are reintroduced. Use the buttons below to share with a friend or sign up for the notifications.
*Bottles of water are for sale at the front desk for $1.00.
**Caregivers are allowed for patrons that need assistance in the water. The caregiver should be focused on the person using the water and cannot recreate separately. A caregiver is defined as a family member or paid helper who regularly looks after a child or a sick, elderly, or disabled person. Please indicate that you will have a caregiver with you when making your reservation.
RESERVATIONS
All patrons are required to make a reservation before using the facility. Reservations will open on Friday, July 31 (two business days before).* This includes water exercise. See schedule at bottom of page for exact times.
Reservations must be made two (2) business days prior.

Reservations are limited to one user per lane/water walking space and limited to one block of time per day.

You can pay your fees when making the reservation or when you arrive for your appointment.

A $5.00 same-day cancellation/no show fee will be added to your account and must be paid before future usage.

Having a current pass does not give you priority to use the pool.

No Walk-ins.

Reservations can only be made by phone or in person. To make a reservation, call us at (206) 824-4722.
*(Special Hours) You can make Reservations on Friday, July 31. Offices will be open from 9:00am to 1:00pm for reservations. Two business day rule applies for reservations.
SCHEDULE
Click here to view a PDF of the MRP Re-Opening Schedule (Effective August 3 – T.B.D.).
HIGH-RISK USERS TIME
We have set aside Tuesday and Thursday mornings from 8:00am to 9:00am for high-risk community members. If you are at a high risk of contracting the Coronavirus, these times are available. Call us at (206) 824-4722 for more information.
PASS HOLDERS
Due to the complexity of the COVID-19 Pandemic, limited services at re-opening and our commitment to safety, the District will be working with each individual pass holder on restarting their passes when they are comfortable. If you would like to discuss your pass, contact the District Offices at (206) 824-4722 or email info@mtrainierpool.com to make an appointment.
INFORMATION UPDATES
Our goal is to communicate the best we can. This includes information on our website, email notification system and social media.
We will be restarting swim lessons and other programming as soon as restrictions are lifted, we develop social distancing-friendly alterations and/or it is safe to do so.
Once our website is updated, we will send information out first by email notification system and then by social media.
Click here to sign up for email updates.
GUIDELINES FOR INDIVIDUAL PROGRAMS
Below are Guidelines for each activity. Please read your specific activity before you attend the pool. Click links below.
Swim Teams (Coming Soon)

Swim Lessons (To Be Announced)

Rentals (Coming Soon)
SANITATION AND SAFETY
Our goal is to ensure the safety of our patrons, staff and community when we re-open.
Staff will deep clean the facility once a day, and all high-contact areas will be continually sanitized throughout the day.
Systems will be setup to ensure physical/social distancing. This may change the way services are offered.
Patrons and/or groups that do not follow these safety directives may be temporarily suspended or refunded to ensure the safety of other patrons.
FREQUENTLY ASKED QUESTIONS
Do you have a question not answered in this email? Follow these steps…
Click the above guidelines, which have the FAQs attached to the end of each sheet.

If your question has not been answered, email us at lauryne.newman@desmoinespool.org.

Call us at (206) 824-4722.
Note-our staff are busy getting the facility ready for re-opening, so please allow one business day for us to return your message.
CONTACT
Do you have more questions or would like to speak to someone in person? Our Aquatics Coordinator, Lauryne Newman, is here to help. You can call her directly at (206) 824-4722 or email her at lauryne.newman@desmoinespool.org.
We hope to have more information on other programming coming in the future as conditions change! Thank you for following these communications.