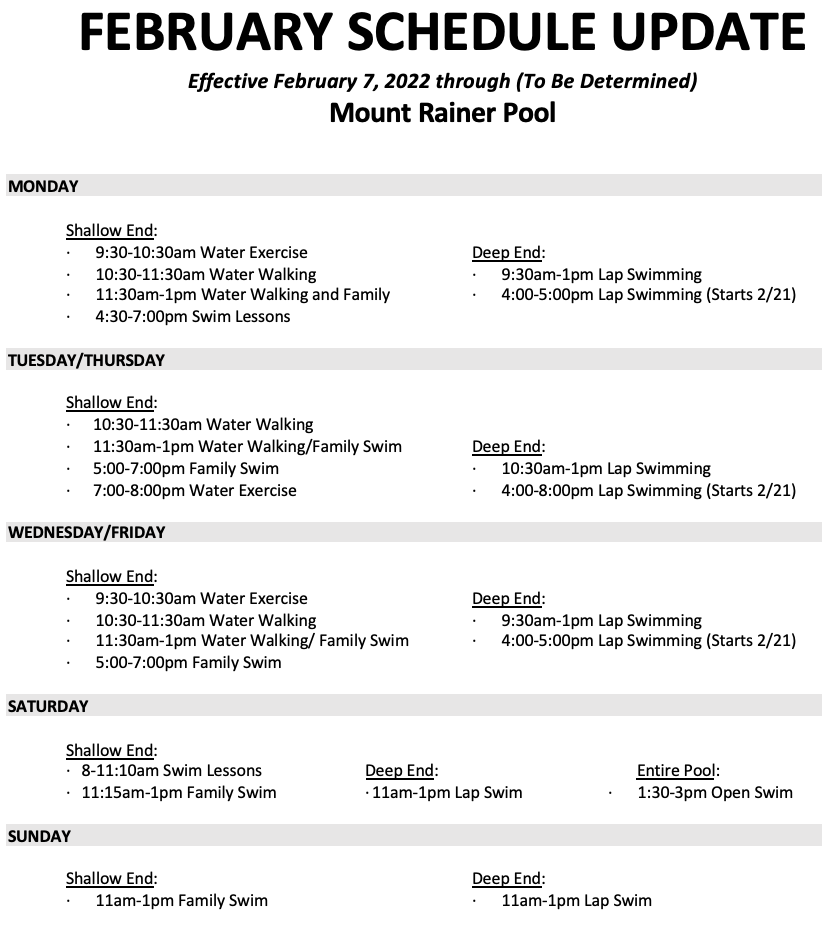 Effective Monday, February 7, the Mount Rainier Pool will using the schedule below.
PUBLIC SWIM SCHEDULE: All swims will be open during the times below. To see the exact swim times, view schedule at bottom of email. (Note-Schedule does not include swim team usage times, contact your team for more detailed information.)
Monday/Wednesday/Friday, 9:30am-1:00pm and 4:00-7:00pm

Tuesday/Thursday, 10:30am-1:00pm & 4:00-8:00pm

Saturday, 11:00am-3:00pm

Sunday, 11:00am-1:00pm
UPDATED SCHEDULE: See schedule (effective Monday, February 7, 2022) at bottom of email.
SPECTATORS: Parents and families of people using the pool are able to spectate (as long as they follow King County Vaccine Verification – see requirements below).
SHOWERS & LOCKERS: Showers will be reopened for before and after pool usage. 
FUTURE UPDATES: Due to the County and State Directives regarding Covid-19, there may be more future updates. If you were forwarded this email or linked to it on social media or the website, please use the buttons below to sign up for future updates. Finally, please help us spread the word by sharing the information with the button below.
VACCINATION VERIFICATION: All swimmers and spectators, 12 and older will be required to present proof of vaccination verification. People who are unvaccinated or cannot prove vaccination status will be required to show proof of a negative PCR COVID-19 test in the last 72 hours or a rapid test result from a test performed by a testing provider on site at the event just prior to entry.
MASKS & SOCIAL DISTANCING: Masks are still required for all facility users outside of the pool. Chairs will be left on the side of the pool for patrons to keep their masks, while they are in the water. It is important all patrons keep six feet of social distance including while in the water (without their mask on) and outside the water. (See section below for more information.)
Click here for more information.