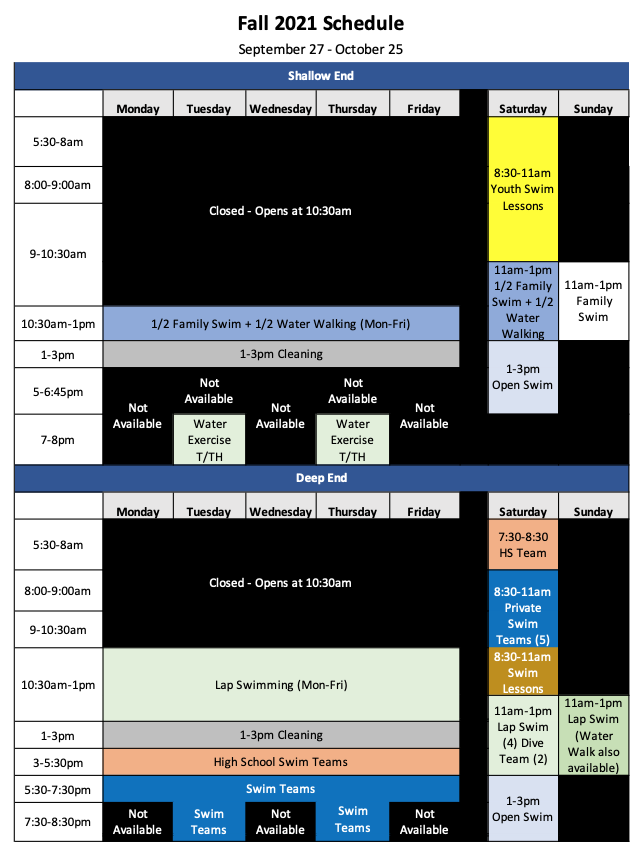 Dear Valued Customer,
Due to the effects of Covid-19 and scheduling, we have elected to dial back our programming a little until October 25 to ensure safe and quality programming.  This is in response to Covid-19 and current and future mandates. For more detailed information visit our website. Also, see new schedule below.
UPDATED SCHEDULE: See schedule (effective September 27)  below with detailed programming. 
Monday/Wednesday/Friday: 10:30am-1:00pm & 3:00-7:30pm*

Tuesday/Thursday: 10:30am-1:00pm & 3:00-8:30pm*

Saturday: 8:00am – 3:00pm**

Sunday: 11:00am – 1:00pm
*Afternoon hours are restricted to private swim teams only. **See Saturday information about Wibit Open Swims below.
CANCELED! MORNING WATER EXERCISE: Effective Monday, September 27, the Mount Rainier Pool will only offer evening water exercise on Tuesday and Thursdays from 7:00-8:00pm.
IMPORTANT! SWIM LESSONS CHANGES: An email about swim lesson changes will be coming out on Friday, September 24.  
IMPORTANT! LAP SWIMMING CHANGES: Lap swimming will be offered Monday – Friday, 10:30am to 1:00pm and Saturday-Sunday, 11:00am to 1:00pm.
IMPORTANT! MASK MANDATE: All patrons, must wear a mask outside the water!  Patrons are not required to wear a mask in the water, but please limit interactions with other households. Chairs will be left by your lanes in the deep end and the side of the pool in the shallow end to store your masks while you are in the water. We also only limit one patron per shower stall and ask you to keep at least six feet of distance. (Note-These directions may change, as we should get updated guidance by the State Department of Health, Water Recreation Facilities next week. We will send out an update if anything changes.) We appreciate you helping us provide a safe and healthy environment!
IMPORTANT! UPCOMING KING COUNTY VACCINE MANDATE: Effective October 25, all patrons and visitors to the Mount Rainier Pool must show proof of vaccination or exemption. This does not inlcude children under the age of 12. This is in response to directives placed by King County. We will notify you of other potential changes to follow this mandate in future emails. At this time, the pool may go back to appointment only. An update will be sent out in mid-October.
Click here if you need to find a vaccination location in your area.
NEW!

PROGRAM LIMITS

For your safety, we are limiting the following programs to capacities below to help ensure social distancing.
Open Swims – Limit first 30*

Family Swims – Limit first 25*

Water Exercise  – Limit first 12*

Lap Swimming – Limit 2/Lane

Water Walking – Limit first 8

Swim Lessons – No Changes*
*No changes at this time, but there may be changes with future mandates.
SOCIAL DISTANCING
In accordance with CDC regulations, we encourage social distancing—staff and patrons should stay at least 6 feet (a few inches longer than a typical pool noodle, both in and out of the water) away from people outside their household. This includes:
In Water: Family and Open Swims, Water Exercise, Water Walking, conversing on the same end while Lap Swimming and any activity where the person's face is outside the water.
Outside Water: Patrons waiting in lines (Wibit, Diving, etc.), showering, and throughout facility while wearing masks.
WIBIT/ $1.00 OPEN SWIM CHANGE
Due to Covid-19, we will be cancelling the Third Saturday Wibit Open Swims and replacing them with $1 Open Swims from 1-3pm. This means that $1 Open Swims will be on the first and third Saturdays from 1-3pm in October and November.
$1 Open Swims: October 2, October 16, November 6 & November 20.* 
WATER EXERCISE
Water exercise will be offered at the following times. With Covid-19 restrictions effects on staffing, we are forced to cut back.
Insurance memberships are now accepted for all classes. Click here for more information.