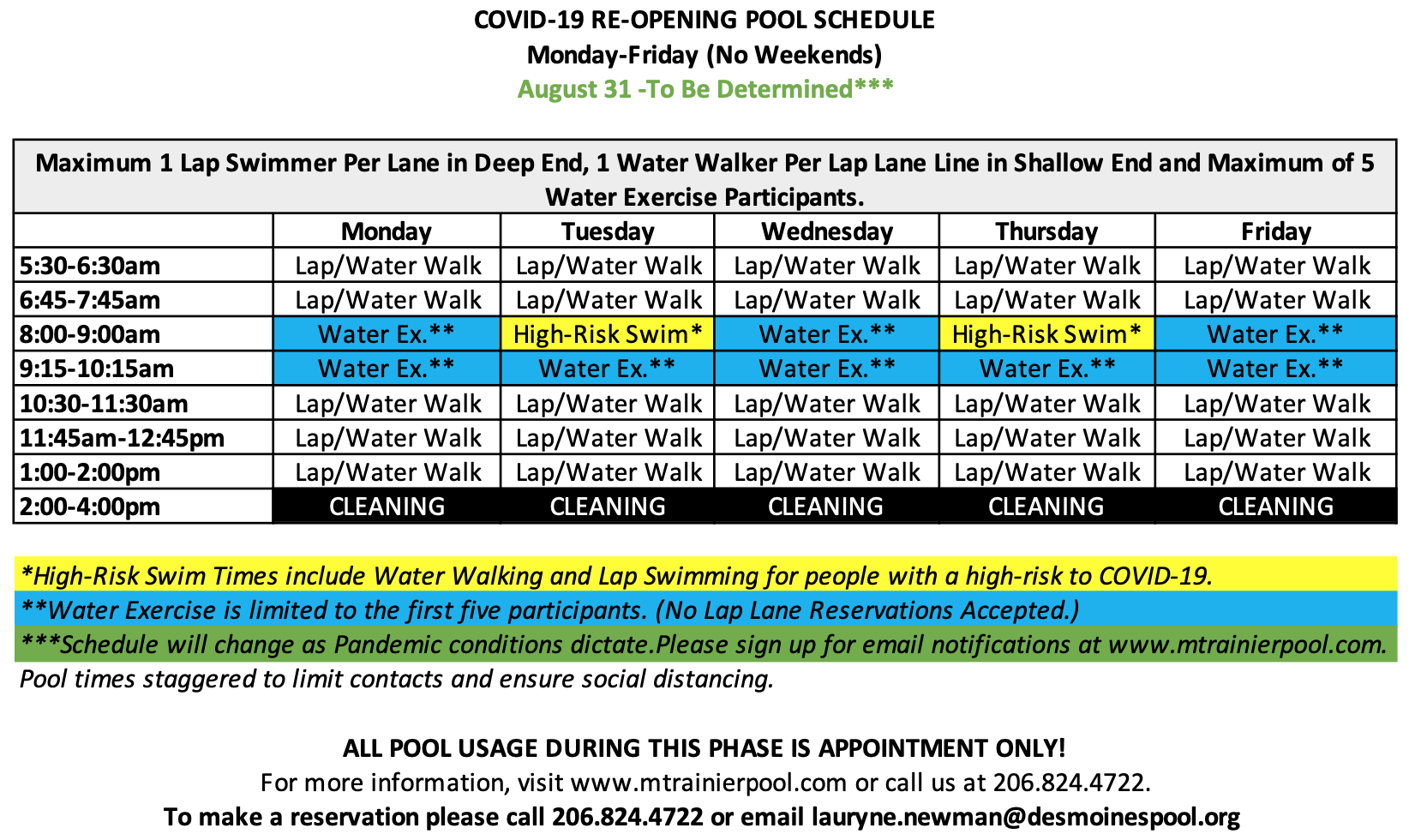 UPDATED SCHEDULE
The Mount Rainier Pool has added Water Aerobics classes on Monday through Friday mornings from 9:15-10:15am (see below). Our schedule will continue to be:
Monday- Friday, 5:30am to 2:00pm (Not Available Saturday or Sunday).
IMPORTANT! Please read the following guidelines and be aware of them before visiting the pool for your chosen activity.
SHOWERING: Come ready to swim with your swimsuit on under your clothes. With showers closed, it is critical that everyone takes a cleansing shower before arriving at the pool.  Showering before entering the pools helps ensure clean, clear and safe water conditions.
FUTURE UPDATES: Due to the complexity of the Pandemic and State Directives there will be more future updates. If you were forwarded this email or linked to it on social media or the website, please use the buttons below to sign up for future updates. Finally, please help us spread the word by sharing the information with the button below.
WATER EXERCISE
Due to strong demand, we will be increasing Water Exercise to be:
Mon/Wed/Fri: 8:00-9:00am

Mon-Fri: 9:15-10:15am –

NEW
Due to state directives based on social distancing for safety, there will be a maximum of five participants per class.
Please read the Water Exercise Guidelines (Effective 8-31-20) before making a reservation.
CLOSED LABOR DAY
The Mount Rainier Pool will be closed Monday, September 7 in observance of Labor Day.
Patrons can make appointments for Tuesday, September 8 starting on the Thursday (September 3) before.
To make a reservation, please call us at (206) 824-4722 between the hours of 5:30am-2pm, Monday through Friday.
CONTACT
Do you have more questions or would like to speak to someone in person? Our Aquatics Coordinator, Lauryne Newman, is here to help. You can call her directly at (206) 824-4722 or email her at lauryne.newman@desmoinespool.org.
We hope to have more information on other programming coming in the future as conditions change! Thank you for following these communications.