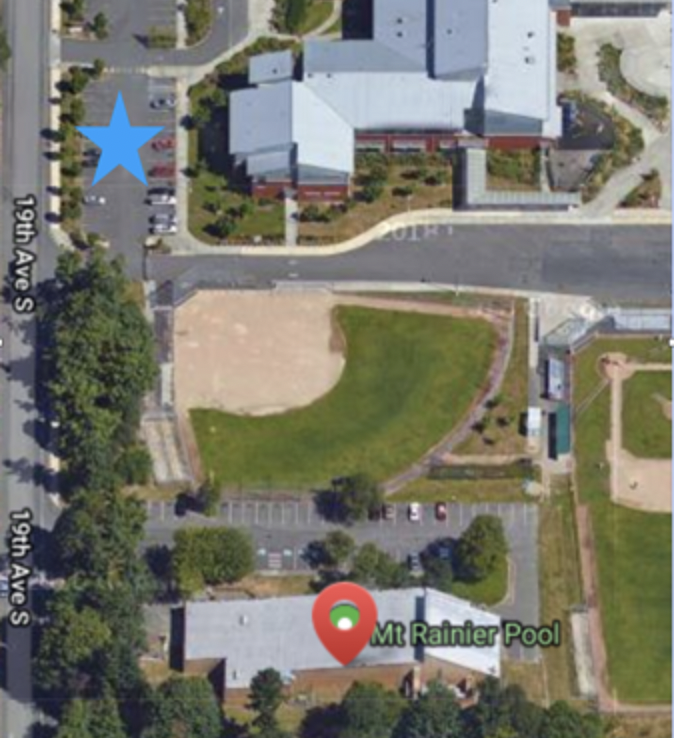 The Mount Rainier Pool received a Summer Enrichment and Experiences for Kids (SEEK) grant for free swim lessons, which has us offering lessons to around 175 students and their families. This with current programming including hosting swim teams will cause us to host more families than we have available parking and utilize additional parking at Mount Rainier High School. 
Due to heavy usage, the Mount Rainier Pool parking lot may be full on Monday and Wednesday evenings (4:15-7:15pm) and some Saturday mornings (8:15-11:15am). Mount Rainier High School allows users of the Mount Rainier Pool to park in their parking lot. Please see map on image above.
Please arrive at least 15-minutes early on these days.
Special Note-The District now enforces towing regulations on non-users (includes people watching baseball games) of the pool to keep our parking open for pool customers.
We hope these changes will make your visit to our pool more enjoyable.
Note – Please do not park in front of residences on 19th Avenue. There is a city ordinance and your car could be towed.
PARKING DIRECTIONS
Please park at Mount Rainier High School (22450 19th Ave S). There is a sidewalk along 19th Avenue that you can use to walk to the Mount Rainier Pool.
Mount Rainier High School and the Highline School District allow us to park in their lot during high usage days like Tuesday and Thursday evenings.
If you need additional help in finding the MRHS parking lot, please call us at (206) 824-4722.