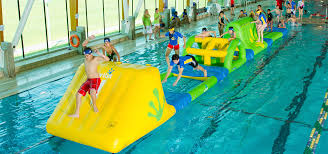 Come check out the new Wibit (Inflatable Pool Obstacle Course) at our Grand Re-opening on Saturday, March 2nd.  At this FREE event, we will entertain the masses and bring a glimpse of summer during these cold winter months! Customers will enjoy free admission, water safety videos and demonstrations, a photo booth, prizes, obstacle course, healthy goodie bags, and more! Don't miss out on our Grand Re-Opening Party!
FREE SWIM REGISTRATIONS
Due to the popular demand on social media, we are going to break the swims into three 55-minute swims. For safety (and more time on the Wibit), we will be limiting each swim to 80 people. You can RSVP at the links below to have one of the first 50 spots in each swim. We will hold the last 30 spots for drop-ins on a first come, first serve basis. Click links below to register.
Free Swim Session Times:
·         2-2:55pm (Register Here)
·         3-3:55pm (Register Here)
·         4-4:55pm (Register Here)
After you swim do not forget to grab a cookie and a gift bag!
REGISTRATION
If you would like to register, please use the link below to register, or call us at (206) 824-4722 or stop by the Mount Rainier Pool. If you have any questions, please contact Lauryne at (206) 824-4722.