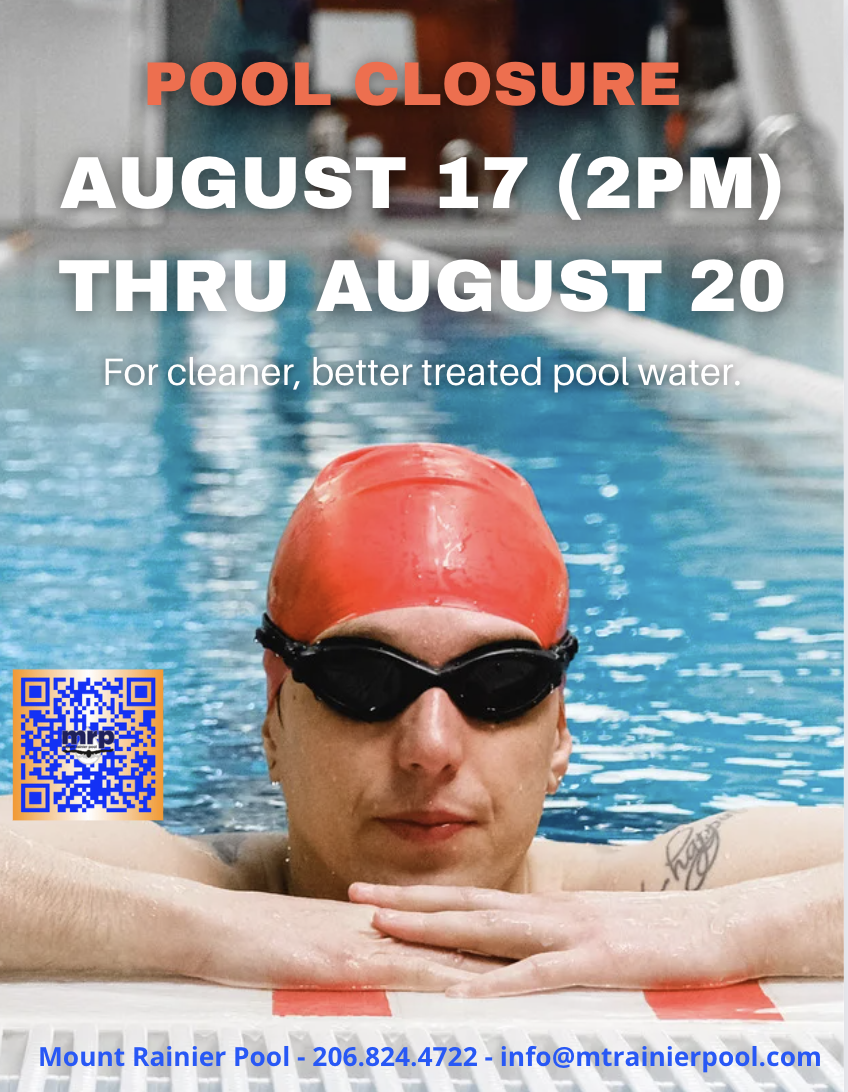 The Mount Rainier Pool will be closed from 2pm on Thursday, August 17 through Sunday, August 20. We plan to re-open on Monday, August 21 at 7am. We will be draining a portion of our water and refilling it with new, fresh water that will be treated for better water quality. Our goal is to maximize your experience!
MRHS SWIM TEAM
The Mount Rainier High School Girls Swim Team and Highline District-Wide Diving Team will start practicing on Monday, August 21. They will utilize the entire deep end between 3-5pm and half of the deep end from 5-6pm. Their practices are Monday-Friday with an occasional meet. The meets will be held on the following dates and the entire pool will be closed from 3-5:30pm.
Tuesday, September 12 – Kentwood and Kent-Meridian

Tuesday, September 19 – Tahoma

Tuesday, September 26 – Decatur

Tuesday, October 10 – Kennedy Catholic (Senior Night)

Friday, October 20 (Tentative) – Hold for District Qualifier
LATE SUMMER SCHEDULE
The attached schedule is for August 21 through September 4. This is to allow for maximum evening lap swim times before private swim teams start after Labor Day.  An updated schedule will start Tuesday, September 5 after our Labor Day Special hours listed below. The schedule starting September 5 will come out the week of August 28.
FALL SWIM LESSON INFORMATION
Fall swim lesson information will also be coming out the week of August 28. We will have more detailed information on registration that will occur after Labor Day. Lessons are estimated to start in late-September.
Click here for more information.
Click here to download a copy of the August 21 – September 4 schedule.