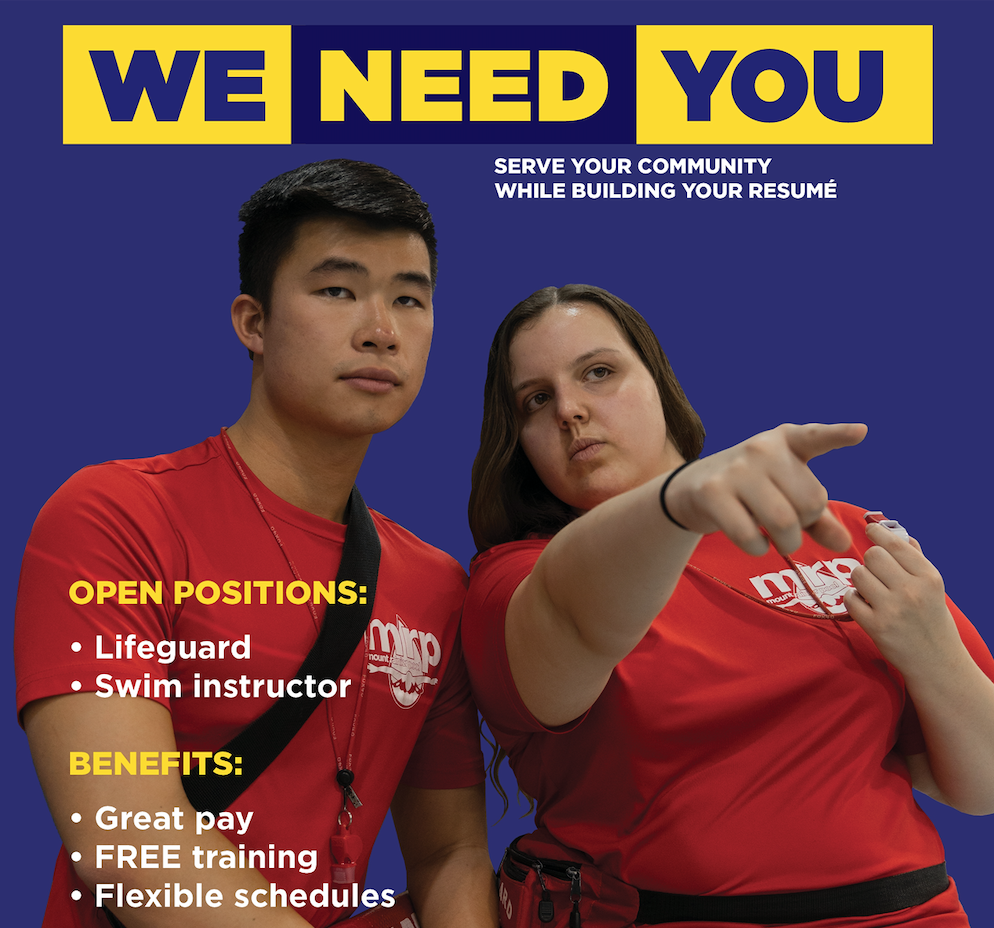 Click here to download a copy of the 2022 Summer Lifeguard Opportunities.
Dear High School Student:
Do you have any members of your family, school or group of friends that want to improve their
swimming and lifesaving skills? The Mount Rainier Pool has developed options for those who
want to become better swimmers, learn lifesaving skills or pursue a career in aquatics. We have
the following opportunities for your students including our lifeguard preparation course, lifeguard
certification and jobs, and swim lessons.
First, the Mount Rainier Pool will be offering a Lifeguard Preparation Course. This course is
designed for youth, ages 14-18 to work on their swimming skills, fitness levels and basic
lifesaving skills. It is designed to help youth prepare to be lifeguards and swim instructors, which
is not only a great part-time job through high school and college but could lead to a career in
being a first responder. (See attached Lifeguard Prep Course Flyer for more information.)
Second, the Mount Rainier Pool offers lifeguard and swim instructor certifications courses for
youth as young as 15. The certifications are $200-$250 but are free with commitment to work at
the Mount Rainier Pool. We also pay for all training after the person is hired. Public service
looks great on anyone's college application or resume, plus you will have a great time! (See
attached Lifeguarding Flyer or register for our lifeguard or swim instructor interest list.)
Third, the Mount Rainier Pool offers Adult Swim Lessons for ages 15+ on Saturday mornings
starting on July 9 from 8-8:30am. If you have never swam before this is a great opportunity to
get your feet wet. Our classes are small and offered before youth swim lessons each morning.
Registration to be put on a contact list will begin on Thursday, June 9 at 11:00am.
Finally, beyond the professional skills listed above, swimming is a life skill that can open
opportunities for you. 70% of the world is covered with water and there are many recreational
opportunities including boating, kayaking, paddleboarding, snorkeling and scuba diving. All
these activities are great ways to see the world and have fun with your friends.
If you are interested in any of these activities see the attached flyers, email us at
FrontDesk@MtRainierPool.com, or call us at 206.824.4722.
Sincerely,
Quentin Knox, Aquatics Manager
Click here to download a copy of the 2022 Summer Lifeguard Opportunities.